A Map and a Lens
Jordan
Sights Unseen Stories Untold
Introduction
A Map and a Lens JORDAN is a photographic pursuit of Jordan's beauty. This new book captures an unprecedented collection of cultural and religious sites in Jordan, which Bashar has spent the last five years on. Bashar's goal throughout was to explore and artistically document Jordan's most captivating and overlooked treasures in order to share with the world.
Between photographing these locations, he also researched and wrote an estimated 75,000 words of corresponding historical context and background. In the 16 months it took to complete this initial phases of the project Bashar had visited over 230 locations, covered a distance of 35,000 km, shot over 20,000 photographs, and spent a cumulative 30 days on the road with 26 off-road excursions and 15 night shoots.
His stunning photographs, supported with maps, timelines, and informative texts, are pieced together in his photo project to create not just a work of art, but a unique tool that can elevate any campaign to promote Jordan both locally and worldwide.
The Book
Bashar Tabbah and Jabal Amman Publishers have worked closely since 2016 to transform the project into a visual delight. The result, a large 364 page Bi-lingual book (21.5 x 28 cm) that contains over 230 full colour images from 130 different locations around Jordan.
Divided chronologically over 7 chapters the book not only features pictures but also 16 hand illustrated maps, and over 30k words in regional and site history as well as an additional 5k words in personal anecdotes and information on the project.
The text, co-written with Jane Taylor (author of Petra and the Lost Kingdom of the Nabataeans) covers over 10k years of history and is meticulously researched and proofread by over 10 separate historians and archaeologists. The text has also been meticulously translated in order to reach out to a wider audience.
16 hand drawn and extensively researched maps add value by showing the vast and shifting geopolitical climates that the land experienced.
Surpassing all, this book will be the definitive visual guide on Jordan and its history.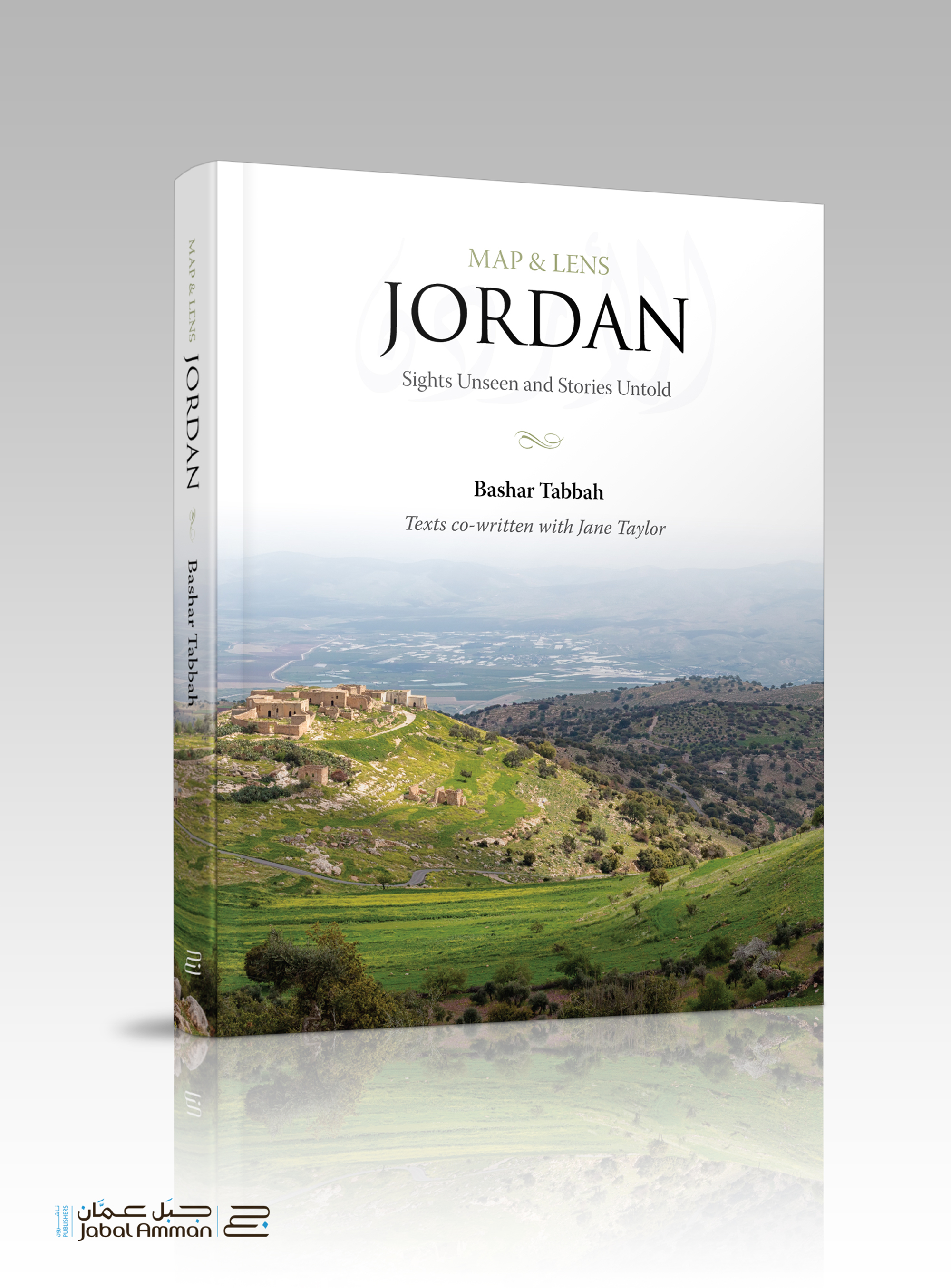 Author & Photography
Bashar Tabbah (Photographer & Author)
A passionate photographer and traveller. He is influenced by photographs taken by archaeological expeditions over the last two centuries in the Levant.

Since 2004, he has documented over 300 locations in 20 countries. Bashar has found his calling in photographing landscape, architecture and travel, specifically in the lands of the Middle East and Central Asia.

Bashar has over 15 years of experience in the travel industry. He has worked with several Jordanian and international publications, as well as multiple architecture and interior and marketing firms. He has held several solo and collective exhibitions, in addition to having given multiple talks on the subject.
Jane Taylor (Text Co-author)
An author, researcher and photographer. Jane Taylor moved to Jordan in 1989. During her time in the Kingdom, She built an impressive reputation as an authority on the kingdom, she also is famous for her bestselling book "Jordan from the air". Jane has also authored many other books on countries including Yemen, Turkey And South Africa.
To purchase it directly from the publisher either visit this site(https://www.japublishers.com/Amal) or directly email the sales department (Jamil) sales@japublishers.com.